It's almost spring and you know what that means? It's time for some spring cleaning tips. I'm not just going to share with you the most common type of spring cleaning tips, for the home. I'm also going to share tips with you on how to spring clean your body, mind and business. So, let's get started.
Reduce, Recycle, Repurpose
1. Easy ways to spring clean the house. Start with one room of your house and spend 15 minutes a day going through drawers, closets etc...and getting rid of what you haven't used in a year or more.
2. Then after you have gotten rid of all the things you no longer were using, move on to the cleaning part and spend 15 minutes a day in each room cleaning under things, move things and refresh things.
House Beautiful
3. Now this is the really fun part of my spring cleaning tips. Change your room décor to a spring time feel. Brighten up dark corners with bright colorful pictures, flowers and paint.
4. Add some new spring themed décor to your kitchen by simply adding new towels, soap dispenser and rugs.
Body Check-Up
5. Spring clean your body with a good cleans for the organs either with foods or a good health food store brand.
6. Switch out refined white food products, such as white cane sugar, white wheat flour and white starchy foods for rich whole grain, colorful foods that are organic, not all natural.
7. Read labels and don't buy anything with sugar added unless it is organic ingredients.
Garden Delights
8. Spruce up that yard or patio with some bright and colorful annuals in an array of bright colors. Add some pots of organic herbs while you are at it and you'll soon be noticing the difference between store bought blah compared to garden fresh Wow! ingredients.
Within no time you'll be feeling better and you'll look better too. Your house will sparkle and dazzle with all the bright spring time colors and decorations you've added.
**********************************************************
All Natural
Aroma Therapy
Make your home smell great with my all natural room fresheners and diffusers found in my Jeanpatch Holistics shop on Etsy.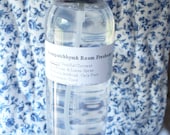 On sale this month for 50% off during my March Madness promotion! You'll find scents to help you get going, sleep better, feel better and smell good!