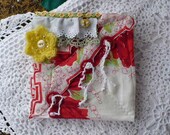 Altered Journal - Vintage Hankie Greeting Card Set - Personalized - Florida.
Sweetheart, Friendship, Mom or Grandparents Vintage Victorian themed journal and greeting card set.
Features layers of beautiful, Victorian patterned embellishments with coordinating accents.
The front of the card has a beautiful vintage hankie with crochet trim, vintage buttons, fibers and two applique...
Click Here to Visit My Etsy Shop!