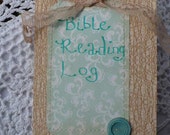 Daily Calendar Log- Inspirational- Bible Reading Log!
This is such a cute way to keep track of your daily Bible reading schedule. Keeping a log helps us keep track of important things we want to do on a daily basis.
I like to be sure I read my Bible daily to keep me on a positive focus in my thinking. You can use this log for any important tasks that you do on a daily basis.
<...
Click Here to Visit My Etsy Shop!