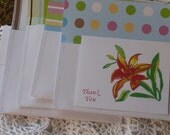 Handmade Envelopes - Stitched - Small and Medium Size.
Here is a very unique way to send your greeting cards and note cards to someone. Put them in one of my very pretty stitched envelopes. You can be sure the contents won't come out being in such a secure package.
I use top quality acid free papers with pretty designs for the inside and the plain white for the outside so the post ...
Click Here to Visit My Etsy Shop!